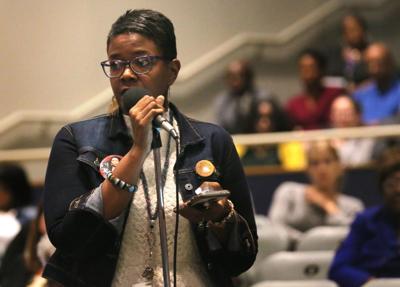 The night of Saturday, Aug. 24, was a horrific one for all of the schools and children in the St. Louis region. Gun violence or the threat of it tainted two major high school events in St. Louis County and city.
School administrators all went cold when they heard the news — just as many parents did, and just as many students did. Just as we did. As school leaders, we live in the shadow of potential violence against our students every day. The fear and uncertainty they live with every day is the No. 1 indicator that our students are not well.
It's not just gun violence shadowing our children. Every day, in urban, suburban and rural classrooms, teachers and staff see other clear signs that the children are not well: poverty, racism, food insecurity, family violence, suicidal ideation, depression, divorce, family illness, substance abuse. The research is clear that trauma and toxic stress live within the minds and bodies of our children — and as much as our children try to show up in class, the effects of trauma and toxic stress can have devastating consequences to learning.
We know firsthand that it can hobble student confidence and beat down their spirit. We also know from decades of research that trauma and toxic stress can cause biophysical and neurological responses that shorten attention span, make it hard to sit still, inhibit short-term memory, trigger outbursts or panic, fuel depression and essentially inhibit the very act of being present and ready to learn in a classroom.
There is disturbing research out of the Economic Policy Institute that demonstrates how readily toxic stress and trauma can derail learning in children as young as 5, particularly among poor and African American children. Other research shows how early academic failure can beget continued failures that lead to the school-to-prison pipeline — the ultimate failure of our education system.
We know solving gun violence and poverty will take incredible resolve at all levels of society, and we pray for that day. But in the meantime, what are schools supposed to do?
Missouri already has a very strong blueprint. It's called The Missouri Model for Trauma-Informed Schools. It's published on the Missouri Department of Elementary and Secondary Education's website.
This document is not a directive, but rather guidelines that schools can use to change their cultures to be more aware and responsive to trauma in their students and their staffs.
It starts with love and empathy the moment students walk into our schools, of course. But schools can and must go much deeper to meet these students where they are. Schools need to have plans regarding trauma, including the will to address the trauma of racism and other forms of discrimination that harm student educational outcomes.
To meet student needs, trauma-informed schools should provide wraparound services such as counseling, access to medical and mental health services, and care teams for children. They encourage student involvement and voice. They enhance support for families in need — everything from providing toiletries to mental health referrals. They include regular staff training to recognize trauma triggers and de-escalate them in students rather than inflame them into disciplinary matters. They include staff and student wellness programs.
Trauma-informed schools fundamentally promote healthy, resilient educators and young learners capable of disrupting the cycle of trauma in their lives and communities. They foster students ready and able to learn, and educators more able to connect with their students.
It's time that all schools — rich, poor, rural, urban, suburban — be better prepared to understand and respond to trauma and toxic stress. Schools should be a place where students and staff feel emotionally safe, cared for and empowered. Why? Because without these supports, we will fail in our jobs to educate all of our children.
We encourage all school leaders, school board members, parents and citizens to read through The Missouri Model for Trauma-Informed Schools. We know documents aren't ever a solution, but we believe Missouri is on to something critical. We believe schools can be trauma-informed. So one day, when we ask, "And, how are the children?" We will be able to answer, "The children are well."
---
Sharonica Hardin-Bartley, Ph.D., is the superintendent of the School District of University City. Terry Harris, Ph.D., is the director of student services for the Rockwood School District. Both were a part of 13-member roundtable that helped produce The Missouri Model for Trauma-Informed Schools.