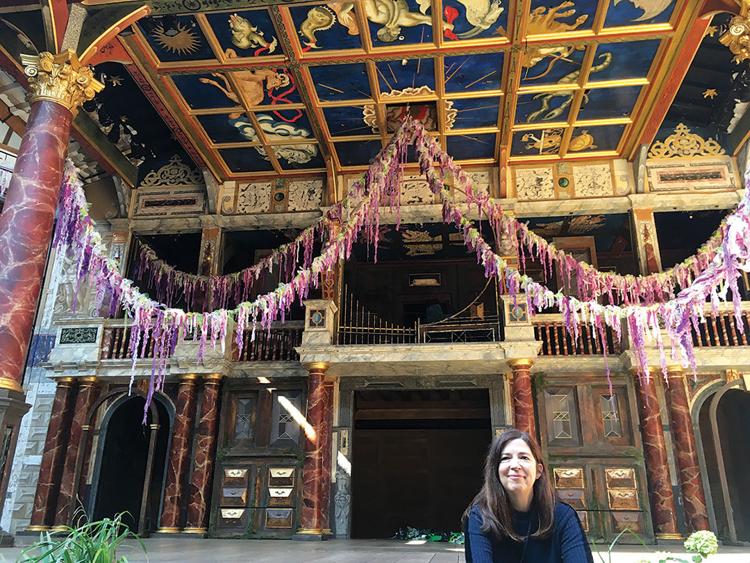 ---
For 15 years, University City High School theater teacher Catherine Hopkins dreamed of seizing a specific suggestion from "A Midsummer Night's Dream" by William Shakespeare: to "Learn, good soul."
But it wasn't ordinary learning Hopkins sought.
She dreamed of plunging into Shakespeare's time era, drama, ambiance and practices in London with a team at the Globe Theatre, the namesake of the original 1599 theater of Shakespeare's playing company, Lord Chamberlain's Men.
After waiting nearly two decades, this summer she realized her wish to study Shakespearean production in an immersive manner at the famed Globe. Hopkins was one of 15 U.S. teachers to receive a fellowship from international educational charity The English-Speaking Union to take in "Teaching Shakespeare Through Performance."
Now this local teacher is infusing bits and pieces of The Bard each day into her students and fellow teachers.
"The program and class in London resulted in a whole cultural mind shift about theater," said Hopkins. "We thought we knew what the way of life was like in the 1600s, but we really had no idea."
Hopkins explained that her 3 1/2 weeks of study at the Globe was about 100 percent working in the fashion they did 450 years ago. She said the program focused on how to connect with audiences – all members of audiences – no matter where they are located during performances.
The modern reconstruction of the Globe opened in 1997, approximately 750 feet from the site of the original Elizabethan theatre. It was made with multi-tiered indoor and outdoor spaces, mimicking the original open center design into which juts the stage.
She said no technology is used at the Globe playhouse.
"There's no comparison from the Globe to stages here in the United States, regarding incredible acoustics, and the overall experience," confided Hopkins.
She said teachers even learned how to perform to "pit" people, which in years past were those who paid a penny to watch performances from a level ground area.
"They were a rowdy bunch who were easily distracted, and performers had to work especially hard to keep their interests," she added.
Hopkins said U.S. performances just don't execute Shakespeare's plays in the holistic ways taught at the Globe.
"In London, for example, I was never for one moment left alone with a page of text. It was about collaborating, and working on great characters together at the same time," she said.
The English-Speaking Union Program
Hopkins had to wait to apply for this program until she moved from Dallas to St. Louis three years ago because applicants must live in a city that has an English-Speaking Union chapter. She also had to vigorously vie for a spot. She first had to be selected among Missouri-based applicants who teach either English or theater/drama, due to Kansas City also having a Union chapter. Then she had to be chosen from national qualifiers, which typically include a handful of New York teachers.
"This program was one of the first things I checked on when I moved to St. Louis," she said.
It's an annual competition and special opportunity, one which she built up in her mind for 15 straight years.
"After thinking about it for so long, I was afraid it might not meet my expectations. But it far exceeded them," she confirmed.
Hopkins studied with directors, actors, set designers, vocal coaches, drama instructors and other artists while in the program. She said they interacted and practiced eight hours a day, six days a week.
"I have 300 to 400 pages of notes," she quipped.
Hopkins said the experience was equivalent to a master's class in teaching, with various ages of participants who ranged from little to 30 years of previous experience – but with all being very skilled educators. Participants only get to attend the program once in their lives.
Applying Shakespeare Locally In New Ways
Hopkins has taught drama for more than 10 years, the past three at University City High School. She typically teaches three to four Shakespearean works every year.
To share lessons learned in London, Hopkins said she's planning to conduct a workshop for her fellow high school teachers.
"I will share how to better get moving with the text and to use imagination. Shakespeare was never meant to be read from desks," she said.
She also communicates with other teachers who completed the London program and who, like her, are eager to trade ideas about how to educate others regarding what they learned.
This local Bard enthusiast said people mistakenly believe teenagers dislike Shakespeare.
"They have no idea how relevant Shakespeare still is and how much students love his work. Once teenagers feel it and get a taste of that enthusiasm, they typically become what we call 'lifers,' as in hooked on Shakespeare for life," said Hopkins.
Hopkins said last year 40-plus students auditioned for her execution of Shakespeare's comedic play "As You Like It." This year, she plans to hold the Bard of Avon's "Twelfth Night," and expects the turnout to be, or not to be, huge.