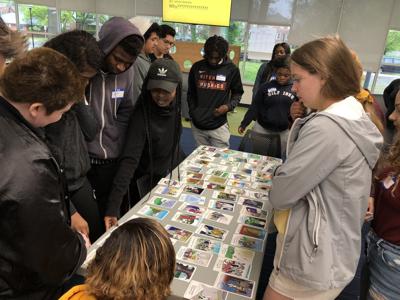 This is what high school students say they need:
A positive atmosphere.
A voice in how their school works.
Better mental health services.
Less stress.
More time.
Those were among the priorities laid out during the last of four daylong workshops of the Youth Ambassador Academy, a pilot program with about two dozen students. Mostly sophomores and juniors, the participants attend schools in the Hazelwood, Parkway, Ritenour, St. Louis Public and University City districts.
On a Saturday afternoon last month in the University City High School library, the teens mapped out their ideas on chart paper, debating what to include. They wrote bubble-letter headings and triple-underlined important points with colorful markers, taking breaks to snack on Oreos, chips and fried chicken left from lunch.
In groups of twos and threes, the students presented their ideas to each other and a few teachers, principals and guidance counselors. Applause — intermingled with whoops and hollers — was generous.
"Seven classes a day, stacks of homework, working after school, athletics — it's a lot to juggle," said 16-year-old Alberto Linares, a junior at Ritenour. "Having a few minutes to de-stress and settle down and go back to class, we think that could be really effective." He and two classmates suggested that a "quiet room" be available at school for students who are feeling overwhelmed.
Three girls from Roosevelt High in St. Louis proposed forming a student council, with each grade represented. The Hazelwood Central team explained how a "buddy system" for upperclassmen and freshmen could benefit younger students.
Student voice
The teens spent the morning hearing from school leaders, including University City Superintendent Sharonica Hardin-Bartley, about ways they could improve the environment at their schools. She explained how to set up a meeting with administrators, petition the school board for policy changes, or secure financing for a new club or activity.
"For me, the No. 1 goal was to bring student voice into this, that they could be agents of change," Hardin-Bartley said in an interview.
For a long time, the social and emotional side of education had been an afterthought, she said. But awareness is growing. Guidance has come from national sources, like the Sandy Hook Advisory Commission report, and local ones, such as Forward Through Ferguson.
According to a study by the Journal of Adolescent Health, almost 90 percent of school districts have used some kind of social-emotional lesson or curriculum. Data suggest that such an investment can lead to better attendance rates, fewer suspensions and higher grades and test scores, especially in struggling districts.
It's about providing tools and strategies to students, Hardin-Bartley said. "Conflicts don't go away, but your response to them can change. This is an issue plaguing our country, and we want to be at the front of that."
The idea for the Youth Ambassador Academy, run by Alive and Well Communities, grew out of the Student Summit on School Safety hosted by Rockwood School District last spring following the shooting at Marjory Stoneman Douglas High School in Parkland, Fla.
"For a long time, we had been looking to engage and activate young people," said Emily Luft, the program director at Alive and Well, a statewide nonprofit that promotes awareness of and healing from all types of trauma.
The organization had been working with teachers and administrators across the region to recognize the effects of stress on students' health, well-being and, ultimately, academic success.
After the Parkland shooting ignited student activism here and across the country, many district administrators were grappling — again — with how to address physical and psychological safety in their schools.
"I thought, 'Let's hear from the students,'" said Terry Harris, the executive director of student services at Rockwood School District. Harris, along with Hardin-Bartley, is part of Alive and Well's educational leaders work group. The group put out a call to area districts, and about 80 students gathered at Lafayette High School last year to create a student action plan.
'Not just locks'
It became clear at the summit that students were looking for ways to help themselves and their classmates navigate issues ranging from depression and anxiety to time management and relationships. Their priorities did not include bullet-resistant windows or sophisticated buzzer systems.
"From the kids' perspective, they wanted us to include emotional safety, not just locks," Harris said. "We should never say, 'These kids are so different,' but life has changed. Things have evolved. Our approach to mental health has been very reactive."
Depression and anxiety are on the rise among U.S. teenagers, according to the National Alliance on Mental Illness. Social media has raised the stakes, making it easier to feel rejected and more difficult to unplug and unwind.
The Youth Ambassador program attempts to address these issues, Luft said. Participating schools all have a tie to the Alive and Well teachers group.
"On the planning committee, we said we don't just want kids who were always nominated for things. We wanted students who were concerned about their communities," she said.
Malaikah Lawrence, a junior at University City High School, was recommended to the group by her Latin teacher. She said the social aspects of school can be most challenging for her, as she tries to balance fitting in with feeling different.
Through the Youth Ambassador meetings, she's realized that everyone's struggle is not the same. "We get to have interactions where we see different perspectives," she said.
At a February workshop, the group made paper loops to connect into a chain. "We sat in a circle. The discussion centered around privilege," said Malaikah, 17. "You took off a ring if you didn't have a privilege, and put on a ring if you did."
The teens took off rings if they had dealt with substance abuse, LGBT issues, sexual assault, racism or family separation. The causes of trauma may be different, Malaikah realized, but the consequences are similar.
Another session focused on response to stress and self-care strategies: exercise, meditation, nutrition, sleep.
The Youth Ambassadors learned about the science behind trauma, how to build individual and community identities, and methods of organizing and advocating.
As the final session drew to a close last month, the teens gathered for their usual debriefing. They formed a circle one last time, and Luft asked them the question that she thinks will be the indicator of the program's success:
"What will you do on Monday to keep this work going?"