UCHS Grad, Hall of Famer to Receive Film Award
9 days ago
Marlon West, a graduate of University City High School, C/O '81 and a member of the UCHS Hall of Fame (2002) , will receive the Charles Guggenheim Cinema St. Louis Award as part of the The 25th Annual Whitaker St. Louis International Film Festival November 3-13. The Guggenheim award honors St. Louisans making significant contributions to the art of film. Previous winners include Bob Gale, George Hickenlooper, Ken Kwapis, Cedric the Entertainer, James Gunn, Jenna Fischer, the Charles Guggenheim family, Jeremy Lasky, Michael Beugg, Beau Willimon, AJ Schnack, and Timothy J. Sexton.
Lifetime Achievement Award honorees are Charles Burnett, Jerry Lewis, Gordon Quinn, and Kim Tucci. Women in Film Award honorees are Karen Allen and Kimberly Steward. Brian Hohlfeld will also receive the Charles Guggenheim Cinema St. Louis Award in addition to West.
The festival will screen 419 films: 111 narrative features, 73 documentary features, and 235 shorts. The fest also will feature 15 special-event programs, including four free master classes and the closing-night party. This year's festival has 72 countries represented and more than 140 filmmakers.
West, a head of effects at Walt Disney Animation Studios, provides a behind-the-scenes peek at Disney's upcoming animated feature "Moana," which appears in theaters nationwide on Nov. 23. Offering a revealing look at the filmmaking process at Disney Animation — with a focus on how his team created the most effects-heavy film in the history of the studio — West discusses his career and previews the much-anticipated "Moana," a sweeping CG-animated epic about an adventurous Pacific Island teenager who sails out on a daring mission to save her people. During her journey, Moana (voice of Auli'i Cravalho) meets the once-mighty demigod Maui (voice of Dwayne Johnson), who guides her in her quest to become a master wayfinder. West receives SLIFF's Cinema St. Louis Award for his achievements in animation. Beginning his Disney career as an effects animator on "The Lion King," West has worked on more than a dozen animated features since, including "Mulan" and "Frozen."
For more information about the festival, click here. For Marlon West's Hall of Fame profile, click here.

Flynn Park Elementary Students Visit City Hall Bringing Social Studies to Life
8 days ago
As part of the first-quarter social studies unit, second graders from Flynn Park Elementary took a field trip to City Hall, the public library, and Lewis Park. The students had the opportunity to tour City Hall, meet the mayor, tour the library, and finish the picture perfect day with the picnic.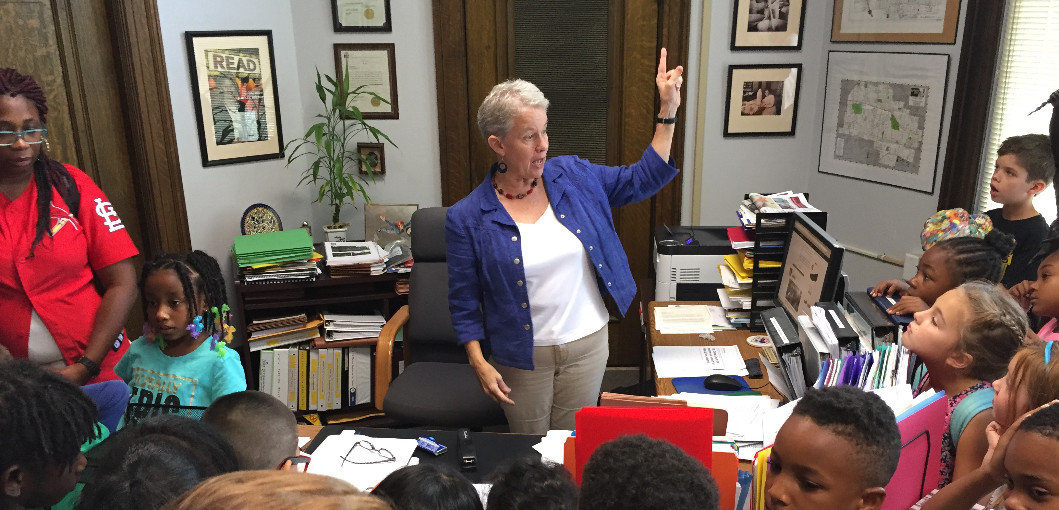 University City Mayor Shelley Welsch discusses city government with second grade students from Flynn Park Elementary School.

Two Flynn Park Elementary School students show off one of their favorite finds at the University City Public Library.

Students Kick Off Gateway2Change Summits on Race
8 days ago
University City High School students, front row right, take a break from the Gateway2Change seminar for a photo opp with their sibling school students from St. Charles West High School.

University City High School recently participated in the first of three Gateway2Change Student Summits on Race. Students from 38 area high schools participated in the 2016-17 kickoff at Ritenour High School.
Gateway2change Student Summits on Race inspire and motivate young people to become leaders for positive change in their local community. This unique approach helps young people engage in purposeful conversations about the social and cultural differences that exist within the St. Louis region.
The movement, which began following tragic events in Ferguson, has served more than 400 students representing 38 high schools throughout the St. Louis region. The component of the program include:
Student Summits on Race—Three full-day summits inspire and motivate students to become leaders for positive change in their local community. This unique approach engages students in purposeful conversations about the social and cultural differences that exist within the St. Louis region. Students learn from local and national experts to explore how these differences influence individual life experiences and perspectives. Students apply problem-solving models to develop solutions for regional issues related to social and cultural difference, diversity and equity.
Sibling Schools & Problem-based Learning—Schools with differing demographics are partnered to bridge cultural gaps and encourage collaboration. Students visit each other's schools and experience how diversity can be a powerful asset in our community. Each Sibling School partnership will explore real-world challenges that companies and communities are facing in the areas of social and cultural difference, diversity and equity. Students will then apply problem-solving models that foster engaging learning opportunities that are relevant to both the students and the community.

The entire Gateway2Change group will meet in November at Emerson and March at St. Louis University to work with local businesses to analyze and solve a racial/cultural problem they present.
Dance Students Train with Bill T. Jones Company
8 days ago
Dance instructor Germaul Barnes, back row center, of the Bill T. Jones/Arnie Zane Dance Company, with members of the modern dance and ballet classes at University City High School. The students recently completed a residency with the renowned company.

Students in Heidi Morgan's ballet and modern dance classes at University City High School recently had an opportunity to work with Germaul Barnes, one of the Teacher Specialists with the Bill T. Jones/Arnie Zane Dance Company. Jones has been called "one of the most influential humanists of our time" and was in St. Louis recently to accept the 2016 International Humanities Medal from Washington University.

"This was truly an amazing opportunity for our students," Morgan said. "They experienced a residency with Bill T. Jones Dance Company including daily dance classes and a mock audition."

Dance St. Louis presented "Analogy/Dora:Tramontaine" a work by the Bill T. Jones/Arnie Zane Dance Company addressing the Holocaust while Jones was in town to accept the humanities award from WashU. The St. Louis American Newspaper covered the award presentation and performance in this article.
"Providing these types of quality learning experiences for our students is critical to our mission of transforming the life of every student every day," said Dr. Ian Buchanan, interim Assistant Superintendent for Curriculum and Instructional Services. "Exposing our students to professionals on the level of a Bill T. Jones has benefits far beyond the technical aspects of instruction."
In addition to the dance residency, the students received a lengthy souvenir study guide, free tickets to the dance troupe's concert at the Touhill, and a lecture on the Holocaust from a Washington University in St. Louis professor.

Germaul Barnes, left, and University City High School dance instructor Heidi Morgan show students how things are really done during a recent class at University City High School.